In a world fervently seeking sustainability, BlockTree emerges as the pioneer of transformative change. This blockchain marvel seamlessly brings together Planters and Sponsors within a digital ecosystem, driving afforestation leaps ahead through the groundbreaking concept of NFTs on the Cardano blockchain.

With saplings and unwavering commitment, Planters plant the seeds of a luxuriant tomorrow. Environmentally conscious Sponsors, ignited by eco-awareness, are furnished with evidence of tree planting's existence through NFTs, enhancing trust and proactive tracking of their afforestation endeavors.

BlockTree's audacious aim is to NFT a million trees by 2025—a tangible testament to the community's unwavering commitment to the environment. In this symphony of nature and technology, a virtual-actual forest blossoms, leaving an indelible legacy in both bits and leaves.
Eastern Townhall approached BlockTree for their passion of forest conservation, under the premise of exploring potential collaboration between entities that share concerns of making a positive mark on our surroundings.

Although Eastern Townhall's singular focus is creating a web of universities that support Cardano, what further interconnects BlockTree and Eastern Townhall is their intent on utilizing the NFT technology created by Cardano. Specifically through the convenient and easy-to-use package on how to utilize NFT that is provided by NMKR.

BlockTree's vision when utilizing this tech is to explore innovative funds generation for reforestation efforts, to open new horizons on BlockTree's and Cardano's mission and yet engage the blockchain and crypto communities to also contribute to healing our ecosystem in a manner that is familiar to the Web3 scene.
A new dynamic is introduced by the Eastern Townhall, through the introduction of an Indonesian based artist, a prominent individual in the glass-working scene in the country. The bind that eventually led to all parties to agree collaborating with this artist is their focus on upcycling discarded bottles and glassware into meaningful and impactful art pieces. This further displays the theme of making a positive mark is always at the forefronts of all that are involved in this collaboration.
This artist and their counterpart in Eastern Townhall, offer a perspective to not be defined by the word NFT. To them NFT is a new canvas, a natural progression in the development of art history. Originating from primitive cave art to a steady progression of the exploration of animal hide, continued to the modern equivalent by taking the shape of linen canvas, art is continuously evolving. One certainty that is constant is the meaning or emotion which art can evoke.
Through this collaboration, this duo has asked us to read between the lines. To look beyond the cover. To see "The World Beyond The Story". Where the approach to the phygital artwork is based on the understanding of "Site-Specific Art". Where NFT in itself is a world of its own. Imagine it as a quantum universe.
A congregation of passion in sustainability and impact projects has brought BlockTree, NMKR, Eastern Townhall and an eco-conscious artist together yet there is an even bigger story of decentralization. All of this would not have happened if not for the vision of Cardano Foundation's Delegation program and Project Catalyst. The funding behind this is the delegation rewards Eastern Townhall and Blocktree have received from Cardano Foundation's generous back-to-back delegation.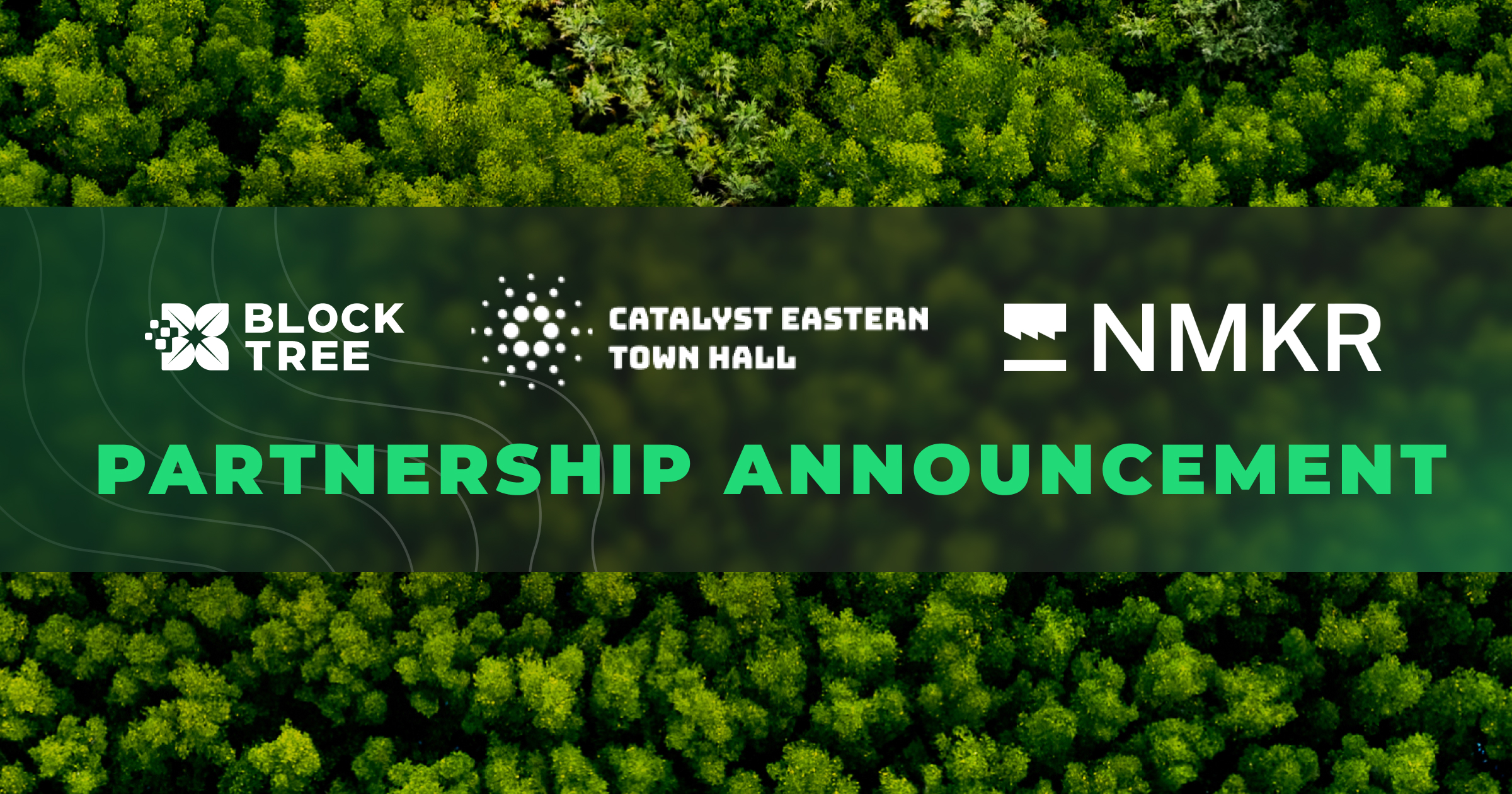 This is truly the story of Cardano.
Xem thông báo phiên bản tiếng Việt tại: https://blocktree.asia/thong-bao-hop-tac-blocktree-nmkr-eastern-townhall/